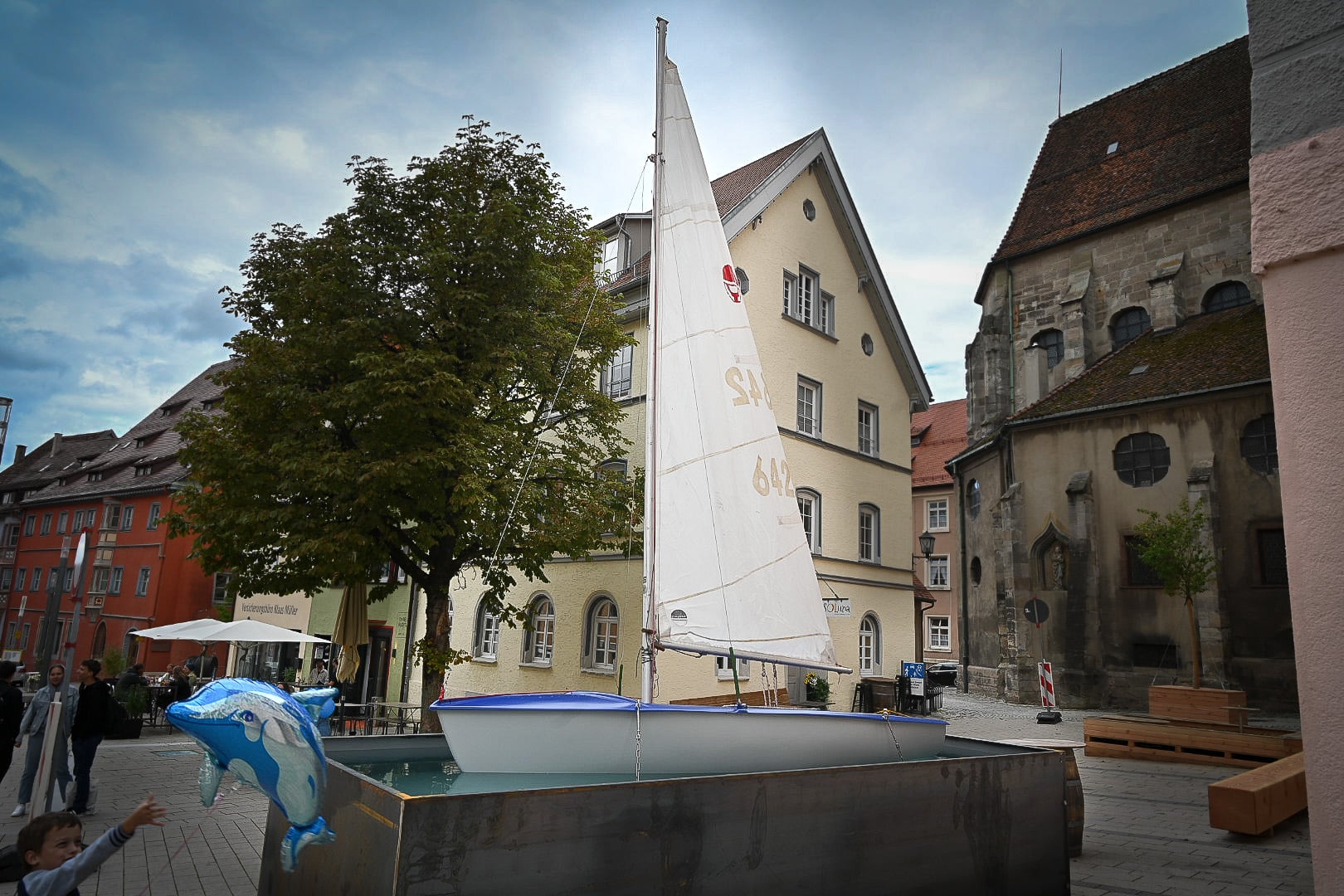 Photo: Andreas Linsenmann
16.09.2022
Press article about the group installation "Platzhalter-Kunst trifft Natur" (Placeholder – Art meets Nature), Rottweil

Although situated on the River Neckar, Rottweil has not yet made a name for itself as a harbour. A veritable sailing boat that has been anchored in Untere Hauptstraße for a few days shouldn't change that. But it should provide some food for thought.
Food for thought in all directions. For instance: how should urban space be further developed? How can mobility be organised in the future – both efficiently and with a view to the climate and resources? And how can Rottweil use the 2028 Landesgartenschau garden festival to set the course for a good future?
The boat, which has been anchoring as an irritating factor in Untere Hauptstraße for a few days, is part of a project launched by Forum Kunst. Under the motto of "Platzhalter – Kunst trifft Natur" (Placeholder – Art meets Nature), the Kunstverein art society has invited five creative people to contribute impulses to the debate in the run-up to the Landesgartenschau garden festival by presenting relevant objects. The boat is Ottmar Hörl's contribution. In 2005, Hörl spectacularly populated Rottweil with plastic Rottweiler multiples – similar to what he did with Marx in Trier or Luther in Wittenberg.
Other contributions come from Daniel Bräg, Urban Hüter, Emilia Neumann as well as Timm Ulrichs. All of them have been associated with the Forum Kunst for a long time. And objects from every one of them are set up in the core city and the suburbs, with the works changing locations every few weeks – a change of place for the placeholders, so to speak.
Hörl calls his maritime intervention in Untere Hauptstraße "Seestück/Energiesparmodell" (Seascape/Energy Saving Model). On the one hand, the title connects the piece to the history of art. Paintings on the theme of the sea are traditionally referred to as "seascapes". On the other hand, the title is a pointer to the highly virulent questions of energy production and mobility in times of skyrocketing prices.
At first glance, Hörl's boat trip may not seem particularly close to everyday life. After all, it's hard to get from A to B on the Upper Neckar by barge. But if you don't get caught up in the initial impression, you will soon come up with more productive ideas. For example, that a dinghy does not require any energy sources to burn up. Instead, it makes elegant use of existing power – without the noise production that engines use to delight the world around them. Seen in this light, the mills that harnessed the power of the River Neckar for centuries were real masterpieces. One might also suspect that such a small boat stands for modesty. In any case, it consumes less manufacturing energy and space than a swanky SUV.
Beyond all theoretical speculation, the perspectives that open up when you walk around Ottmar Hörl's sloop are interesting – apart from the fact that it also looks strangely enclosed in a small water-filled basin. Almost like a racehorse that is not allowed out of the box.
Seen from Kapellenkirche, or Chapel Church, it seems to be striving towards "Venezia" – a lakeside spot, how fitting! And a place of longing. Which admittedly also has its problems, with tourism as the keyword. Does Rottweil really want to go there?
If you turn your gaze out of town, you see something opening up: a square, an open space. It doesn't seem cramped, walled up, blocked off, inhospitable. The sky is not far away either – after all, the eye likes to climb up the mast and sail, and is not immediately stopped this time. However, you can drop anchor here and feel at home.
Looking in the direction of the Schwarzes Tor, or Black Gate, a stark contrast becomes evident: the bow, which elegantly strives forward, which seeks to set off for new shores, will quickly collide with sheet metal. The visionary nature of the boat is refracted in the reality of a largely sealed city optimised for cars. And you take this impression with you when heading back into the city: there is a lot of dreary space between the colourful walls. No water, hardly any green. A pioneering visionary intervention already seems to have arrived here: the trees. They too are temporary, they too are in mobile beds. But they do break up the status quo no less than the Hörl boat does.
So the "Placeholder" art project provides plenty of food for thought already with its first impact. That's something. Of course, it remains to be seen where the thought processes will ultimately lead, whether new ventures will succeed and whether the quality of life and the quality of urban space are actually going to improve.

(Author: Dr. Andreas Linsenmann; reprinted with the kind permission of the author. The article appeared under the title "Innenstadt-Bootsfahrt - wohin?" [City centre boat trip – destination unknown?] in "Neue Rottweiler Zeitung" of 15.09.2022. Here you can read the original article)
< back to overview News
Categories
Events
GROUP EXHIBITION: "STREIT. Eine Annäherung." ("Argument. A close-up")
Museum für Kommunikation Berlin
Leipziger Str. 16
10117 Berlin
07. October 2022 until 27. August 2023
https://www.mfk-berlin.de
SCHUTZENGEL FÜR TELGTE ("Guardian Angels for Telgte")
Art installation by Ottmar Hörl
at St. Clemens Kirche
48291 Telgte
21. May to 03. July 2023
www.telgte.de
GROUP EXHIBITION: "GLASSHOUSE"
Kunstverein KISS, castle Untergröningen
73434 Abtsgmünd - Untergröningen
18. March 2023 to 30. July 2023
https://www.kiss-untergroeningen.de
GROUP EXHIBITION: "Die riesige Welt der Zwerge. Zwerge in Kunst und Literatur" ("The Gigantic World of Gnomes. Gnomes in Art and Literature")
Municipal museum Hofheim am Taunus
Burgstraße 11
65719 Hofheim am Taunus
12. March to 18. June 2023
https://www.hofheim.de
GROUP EXHIBITION: "Scultura 23"
Gesellschaft der Freunde Junger Kunst in Baden-Baden
Altes Dampfbad
Marktplatz 13
76530 Baden-Baden
23. April to 8. October 2023
http://www.gfjk.de

GROUP EXHIBITION: "25. Skulpturenpark 2023" (25. Sculpture park 2023)
Kommunale Galerie Mörfelden Waldorf
Parkanlage at Bürgerhaus Mörfelden
Blumenstraße / corner Parkstraße
64546 Mörfelden-Walldorf
9. July to 3. September 2023
www.kommunalegalerie.de