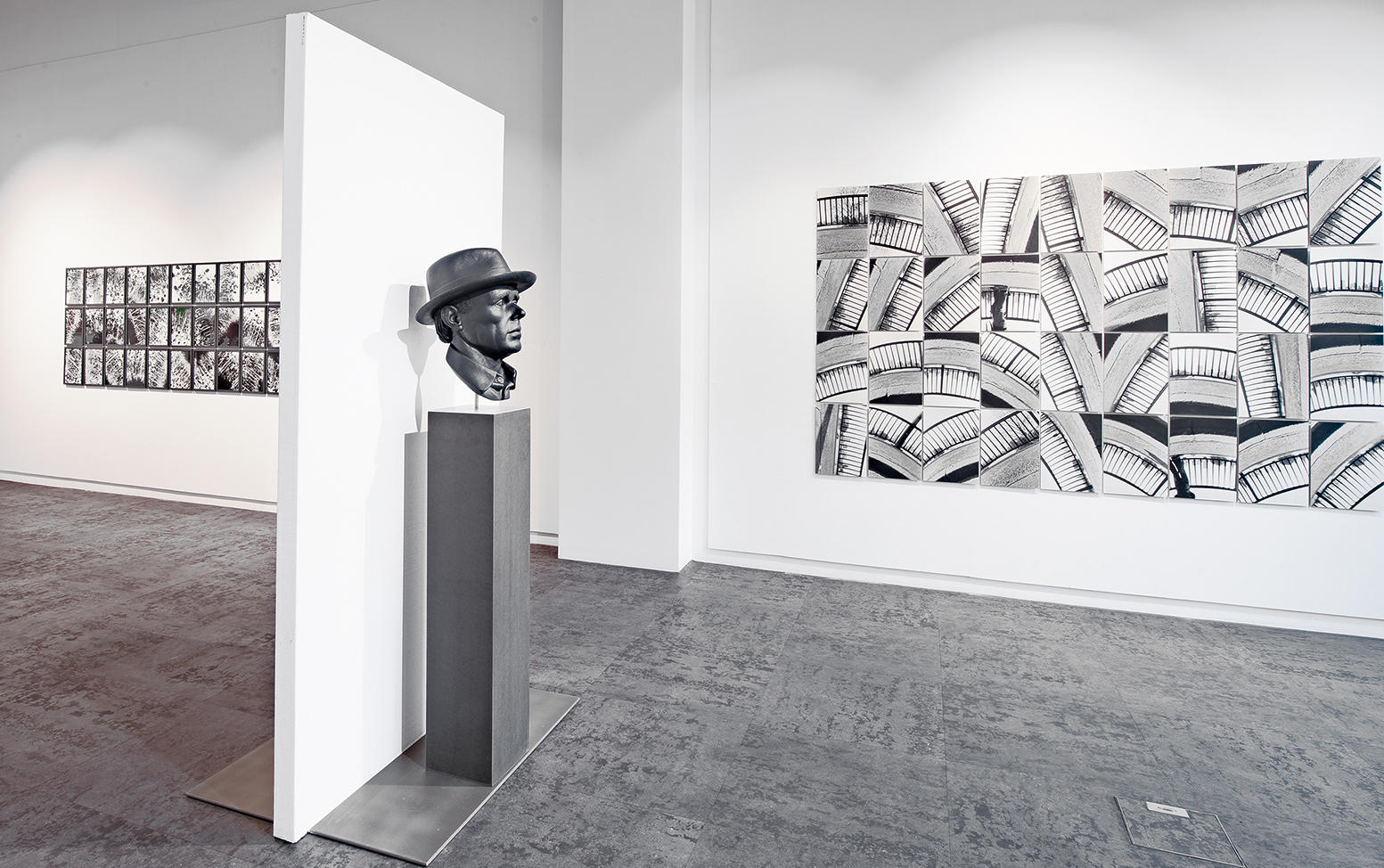 Photo: Galerie Bode
07.05.2021
Exhibition: "Ottmar Hörl – Fotokonzepte" [Ottmar Hörl – Foto Concepts] at Galerie Bode in Nuremberg, 1 to 22 May 2021
On the occasion of this year's photo festival, the Nuremberg-based Galerie Bode opened its virtual exhibition presenting photo concepts created by Ottmar Hörl.
In these works, Ottmar Hörl succeeds "by changing the current method of photography to make a completely different and at first unfamiliar perspective of our environment accessible to the viewer.
According to Ottmar Hörl, people are trapped in a bubble, a bubble of habits and familiar things. Since we don't like to leave this safety zone, our gaze always wanders to similar scenes or motifs, and this is no different with photography. In order to develop a completely new type of photography, it is essential to change the underlying principle first: the method of photography.
Hörl returns control to the machine having it take pictures without constraint, images that a human being would never be able to produce. The apparatus offers possibilities that are not available to humans. It can be thrown from high above and rotated hundreds of times, thus creating images that completely evade familiar viewing habits. Even if these processes seem random at first, they work according to a specific pattern such as gravity or centrifugal force. These photographs are taken at a decisive moment, almost as if a person were to press the shutter-release button. The only difference is that the machine takes the decision under the prevailing physical conditions.
From 1982, the conceptual artist produced various ideas for the new camera perspective. For the photo series "Requiem for Vincent", the artist attached a camera to a wheel hub of a bicycle and cycled through a field of flowers. The resulting images exude an aesthetic that initially seems unfamiliar, as the way of looking at things is literally twisted. But the aesthetic that then reveals itself is that of the camera and the world as such."
Text: Anna Bode, Galerie & Edition Bode GmbH
Access the Homepage of Bode Gallery
< back to overview News
Categories
Events
GROUP EXHIBITION: "STREIT. Eine Annäherung." ("Argument. A close-up")
Museum für Kommunikation Berlin
Leipziger Str. 16
10117 Berlin
07. October 2022 until 27. August 2023
https://www.mfk-berlin.de
SCHUTZENGEL FÜR TELGTE ("Guardian Angels for Telgte")
Art installation by Ottmar Hörl
at St. Clemens Kirche
48291 Telgte
21. May to 03. July 2023
www.telgte.de
GROUP EXHIBITION: "GLASSHOUSE"
Kunstverein KISS, castle Untergröningen
73434 Abtsgmünd - Untergröningen
14. March 2023 to 30. July 2023
https://www.kiss-untergroeningen.de
GROUP EXHIBITION: "Kunst und Medizin II" ("Art and medicine II")
Wilhelm-Fabry-Museum
Benrather Straße 32a
40721 Hilden
05. February to 14. May 2023
https://wordpress.wilhelm-fabry-museum.de
GROUP EXHIBITION: "»ACCROCHAGE« | PART_ONE"
Gallery Paul Hafner
Davidstrasse 40
9000 St. Gallen (Switzerland)
14. January to 30. March 2023
https://www.paulhafner.ch/index.html
GROUP EXHIBITION: "Die riesige Welt der Zwerge. Zwerge in Kunst und Literatur" ("The huge world of dwarves. Dwarves in Art and Literature")
Municipal museum Hofheim am Taunus
Burgstraße 11
65719 Hofheim am Taunus
12. March to 18. June 2023
https://www.hofheim.de