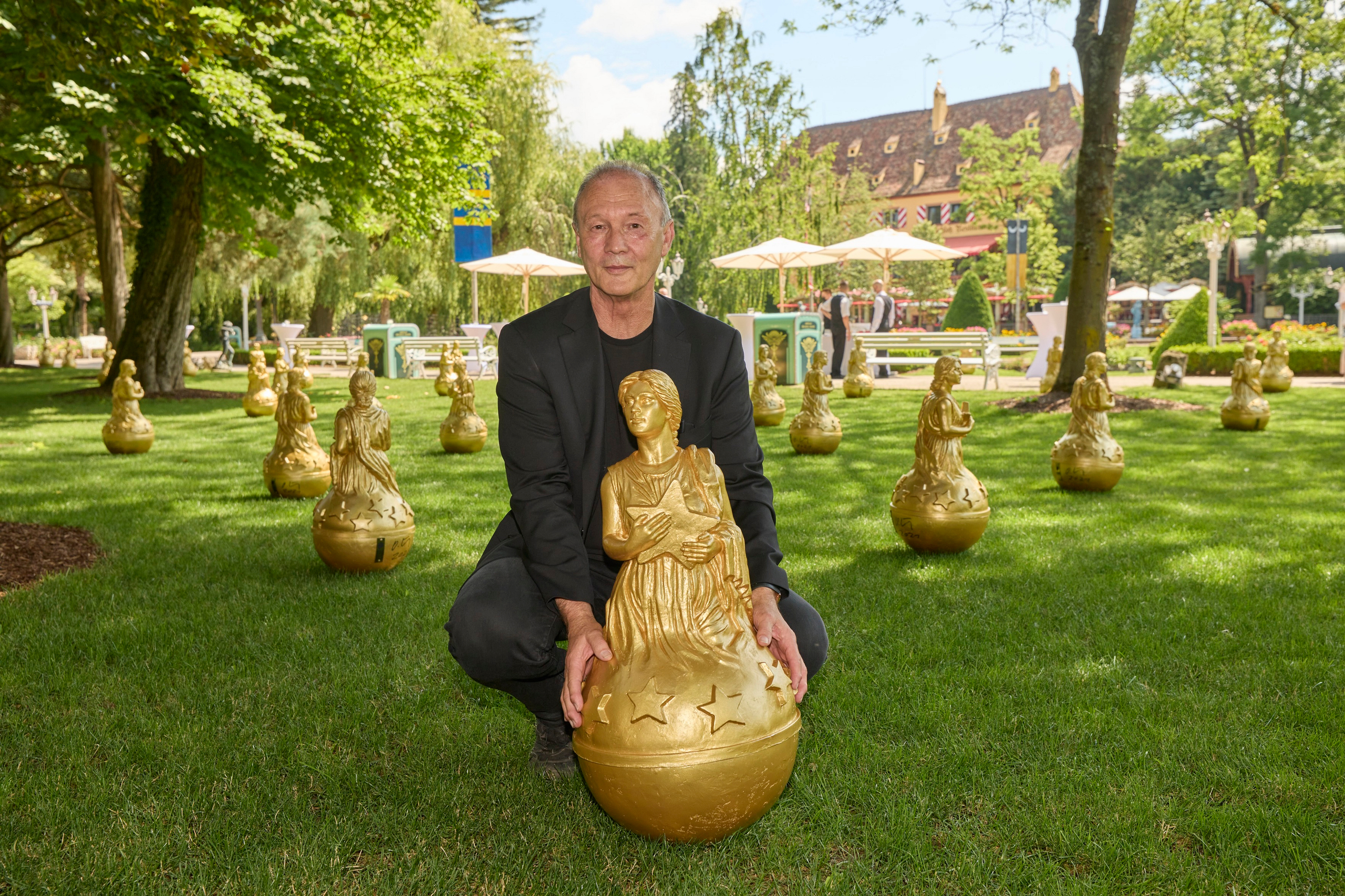 © Europa-Sculpture Ottmar Hörl, Photo: Koppelstätter Media
29.06.2021
"Europa" sculptural installation, Europa-Park, Rust, 2 July to end of October 2021
To mark the 100th birthday of Franz Mack, the founder of the Europa-Park theme park, Ottmar Hörl was invited to develop a sculptural installation featuring a multiplicity of golden "Europa" figures. The serial sculptures in the shape of roly-poly dolls will be on show at Europa-Park in Rust from 2 July until the end of October. They can be viewed at the end of "Deutsche Allee".
Here is what gallery owner Klaus Gerrit Friese (Galerie Friese, Berlin), who launched the project in collaboration with Horst Koppelstätter, says about the figure of Europa:
"'Europa' grabs the (lucky) star with both hands, holding it tight. Confident, thoughtful, calm and persistent, she radiates prudence in the best sense of the term. She knows that everything must be explored and balanced over and over again. Ottmar Hörl has created a beautiful new artistic definition of the Europa sculpture. He has revolutionised the traditional image of the personification of Europa and put it in a nutshell in a contemporary manner: as a gold-coloured, shining icon in the form of a 'standing-up-again woman', a roly-poly doll that gets up again and again, that does not allow herself to be discouraged, she points out that nothing is more constant than change and transformation. Based on perseverance and respectful collaboration, one can overcome challenges and achieve great things. In this respect, our Europa embodies a piece of hope. That is also what makes her so radiant."
Giving a redefinition of the figure of Europa, Ottmar Hörl makes the ambiguity of the figure as well as of the European confederation clear, and points up the ability of both to rise again from any situation. At the same time, the figure is also a symbol of the hope that Hörl has for Europe.
"I assume that the visitors will recognise the situation in Europe and the instability of the European Community. Actually, everything is in the figure: 'standing-up-again man', or 'standing-up-again woman', Europe standing up again. You shouldn't be discouraged if something loses its balance or tilts over. We have to keep fighting for a stable situation. We all have to work on that, just as we do for democracy."
(Ottmar Hörl)
Visit the homepage of Koppelstätter Media
< back to overview News