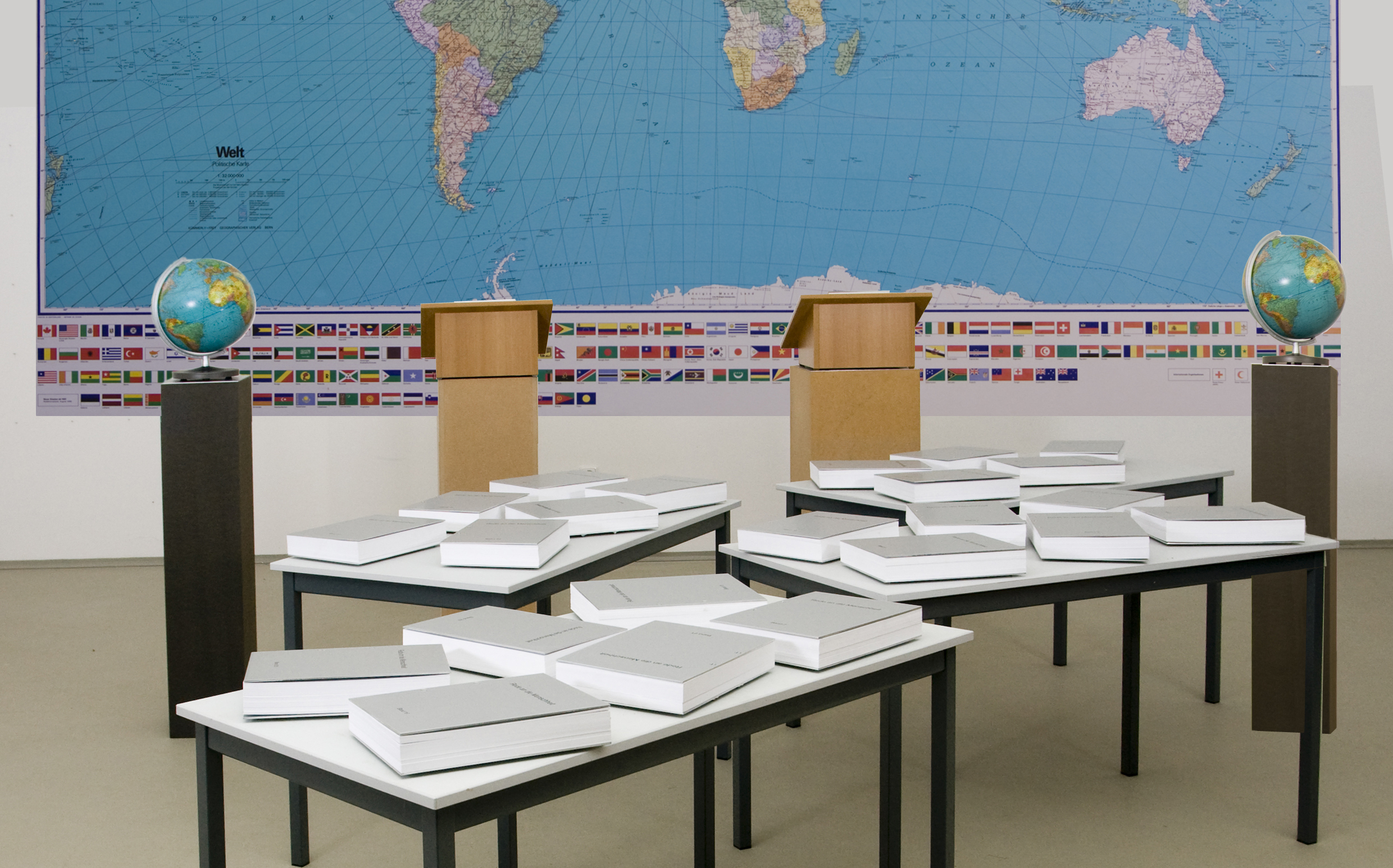 Exhibition: "Ottmar Hörl. Serienproduktion [Serial Production]", Opelvillen Rüsselsheim, 1997. Photo: Werner Scheuermann
28.04.2021
Visiting with Ottmar Hörl "Worldview Models" ARTMAPP talking to the artist. Author: Marc Peschke
In December 2020, Reiner Brouwer and Marc Peschke (ARTMAPP) went to see Ottmar Hörl in Wertheim to have a chat with him. Here's a brief extract:
It turns out that " having a conversation with Hörl about art and all the world is an inspiring, intense, fast-paced affair. We stayed for almost six hours. How time flies. Sitting in the wintry semi-darkness with coffee, talking about encounters that took place half a lifetime ago – and about new things like Hörl's exhibition at the Indang Museum in Daegu, South Korea, organised in collaboration with the Bode Gallery, and his participation in the 8th Swiss Triennial of Sculpture, 'Bad RagARTz', this spring.
Hörl's work "Rede an die Menschheit" [A Speech to All Humanity] from 1997, was also discussed (see photo):
"The piece 'Rede an die Menschheit' [A Speech to All Humanity] is deeply rooted in the principles of democracy and solidarity. It is the objectification of the draft of a global, non-partisan idea – beyond any ideology, selfishness, arrogance, or dominance of economic interests. It is about the idea that suitably competent people in charge would give a speech to all humanity from time to time – a speech based on reason, knowledge, and facts about the actual state of the world, a speech drawn up as a summary of all relevant problems that must be solved in order to collectively ensure the survival of all mankind. A speech as a convincing appeal so that every individual feels personally addressed to take responsibility for the environment and the survival of future generations, to act and to pull together. The work is a metaphor for the potential of human consciousness and the further development of society as a whole, it is an appeal and an expression of hope at the same time."
OTTMAR HÖRL
Excerpt by courtesy of Reiner Brouwer.
ARTMAPP Magazin, volume 10, issue 26 – April 2021, pp. 96-105
The quotation is taken from page 105.
Read the full interview here
The complete ARTMAPP magazine is also available for download from here
< back to overview News
Categories
Events
GROUP EXHIBITION: "Ich, ich, ich – Selbstportraits heute" ("I, I, I - self-portaits of today")
FORUM KUNST ROTTWEIL
Friedrichsplatz 4
78628 Rottweil
20. November 2022 to 08. January 2023
http://www.forumkunstrottweil.de/?page_id=20


GROUP EXHIBITION: "PLATZHALTER – Kunst trifft Natur
Ein Projekt zur Landesgartenschau 2028" ("Place holder -art meets nature A project for the 2028 State Horticultural Show")
FORUM KUNST ROTTWEIL
Friedrichsplatz 4
78628 Rottweil
17. July to 18. September 2022
http://www.forumkunstrottweil.de/?page_id=20


GROUP EXHIBITION: "Leben im Krieg" ("Wartime life")
Historisches Museum Hanau Schloss Philippsruhe
Philippsruher Allee 45, Hanau
Extended to 04. September 2022
Tue-Sun 11 am to 6 pm
https://www.hanau.de/sehenswert/museen/index.html


KÜNSTLERTALK with Ottmar Hörl
Thu 09.06.2022, 7 pm and 23.06.2022, 7 pm
Exclusive talk with the artist Ottmar Hörl in the Kunsthalle and the Kunstverein Schweinfurt
Booking: 09721 51-4721 or via mail: kasse.kunsthalle@schweinfurt.de
https://www.kunsthalle-schweinfurt.de


EXHIBITION & SALE OF GOLDEN HENS IN THE VR BANK SÜDPFALZ eG
Waffenstraße 15
76829 Landau
Mo-Fr 8 am until 4/6 pm
Beginning 16th of February
The proceeds from the sold sculptures benefit the Frauenhaus Südpfalz
https://www.vrbank-suedpfalz.de


GROUP EXHIBITION: "Skulpturengarten 2022" ("Sculptural garden 2022")
Gemeindepark
Hauptstraße 20
76889 Schweigen-Rechtenbach
01. May to 31. October 2022
https://schulhaus-schweigen.com


GROUP EXHIBITION: "The culture of plastic: art, design, environment."
Omero National Tactile Museum
Mole Vanvitelliana
Banchina Giovanni da Chio 28
60121 Ancona, Italy
22. May to 31. August 2022
https://www.museoomero.it/en


GROUP EXHIBITION: "STREIT. Eine Annäherung." ("Argument. A close-up")
Museum für Kommunikation Berlin
Leipziger Str. 16
10117 Berlin
07. October 2022 until 27. August 2023
https://www.mfk-berlin.de


GROUP EXHIBITION: "Andy Warhol - Pop Art Identities"
Industriepark
Königsbrücker Str. 96
01099 Dresden
04. February until 12. June 2022
https://warhol-exhibition.com/#ausstellung


EXHIBITION: "Hommage à Axel Thieme"
Galerie Netuschil
Schleiermacherstraße 8
64283 Darmstadt
10. July until 27. August 2022
https://www.galerie-netuschil.net/