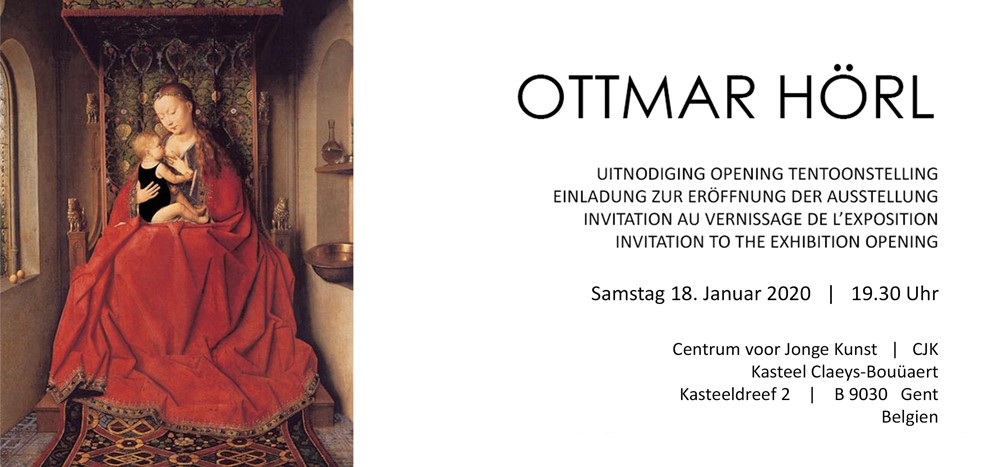 Picture.: (Detail): Ottmar Hörl, Lucca Madonna (after Jan van Eyck), 2010, Fine Art Print/LW, 65,5 x 47 cm
15.01.2020
Exhibition "Ottmar Hörl", Centrum voor Jonge Kunst, Gent
Is it possible to visualise the way we look at something? Are we in a position to really understand art that was created in the past? Is there a difference between looking at art through another medium?
These are the pivotal questions regarding art appreciation which Ottmar Hörl focuses on in his "Picture Interferences" (since 2009), on view now alongside other pieces in his current exhibition in Ghent entitled "Ottmar Hörl". The exhibition will be opened this coming Saturday in the artist's presence. It will be on show at the Centrum voor Jonge Kunst between 19 January and 22 March 2020.
Art is a cultural asset in motion. It is devoid of static concepts. This is why art is always only a temporal suggestion which changes over the centuries (Ottmar Hörl). Just as Hörl deals with this transformation in his "Picture Interferences", he concentrates on the concept of nature in the 21st century, emphasising the intricacy of global networks in the digital age, in his "Natural Wonders" series.
A number of other typical paintings and sculptures offer an insight into the artist's multifaceted oeuvre, including such legendary multiples as the "Sponti" gnome.
The exhibition runs from 19 January to 22 March 2020, opening every Wednesday, Saturday and Sunday from 1 p.m. to 6 p.m. 
access Centrum Voor Jonge Kunst
Flyer of Exhibition

< back to overview News
Categories
Events
GROUP EXHIBITION: "Ich, ich, ich – Selbstportraits heute" ("I, I, I - self-portaits of today")
FORUM KUNST ROTTWEIL
Friedrichsplatz 4
78628 Rottweil
20. November 2022 to 08. January 2023
http://www.forumkunstrottweil.de/?page_id=20


GROUP EXHIBITION: "PLATZHALTER – Kunst trifft Natur
Ein Projekt zur Landesgartenschau 2028" ("Place holder -art meets nature A project for the 2028 State Horticultural Show")
FORUM KUNST ROTTWEIL
Friedrichsplatz 4
78628 Rottweil
17. July to 18. September 2022
http://www.forumkunstrottweil.de/?page_id=20


GROUP EXHIBITION: "Leben im Krieg" ("Wartime life")
Historisches Museum Hanau Schloss Philippsruhe
Philippsruher Allee 45, Hanau
Extended to 04. September 2022
Tue-Sun 11 am to 6 pm
https://www.hanau.de/sehenswert/museen/index.html


KÜNSTLERTALK with Ottmar Hörl
Thu 09.06.2022, 7 pm and 23.06.2022, 7 pm
Exclusive talk with the artist Ottmar Hörl in the Kunsthalle and the Kunstverein Schweinfurt
Booking: 09721 51-4721 or via mail: kasse.kunsthalle@schweinfurt.de
https://www.kunsthalle-schweinfurt.de


EXHIBITION & SALE OF GOLDEN HENS IN THE VR BANK SÜDPFALZ eG
Waffenstraße 15
76829 Landau
Mo-Fr 8 am until 4/6 pm
Beginning 16th of February
The proceeds from the sold sculptures benefit the Frauenhaus Südpfalz
https://www.vrbank-suedpfalz.de


GROUP EXHIBITION: "Skulpturengarten 2022" ("Sculptural garden 2022")
Gemeindepark
Hauptstraße 20
76889 Schweigen-Rechtenbach
01. May to 31. October 2022
https://schulhaus-schweigen.com


GROUP EXHIBITION: "The culture of plastic: art, design, environment."
Omero National Tactile Museum
Mole Vanvitelliana
Banchina Giovanni da Chio 28
60121 Ancona, Italy
22. May to 31. August 2022
https://www.museoomero.it/en


GROUP EXHIBITION: "STREIT. Eine Annäherung." ("Argument. A close-up")
Museum für Kommunikation Berlin
Leipziger Str. 16
10117 Berlin
07. October 2022 until 27. August 2023
https://www.mfk-berlin.de


GROUP EXHIBITION: "Andy Warhol - Pop Art Identities"
Industriepark
Königsbrücker Str. 96
01099 Dresden
04. February until 12. June 2022
https://warhol-exhibition.com/#ausstellung


EXHIBITION: "Hommage à Axel Thieme"
Galerie Netuschil
Schleiermacherstraße 8
64283 Darmstadt
10. July until 27. August 2022
https://www.galerie-netuschil.net/