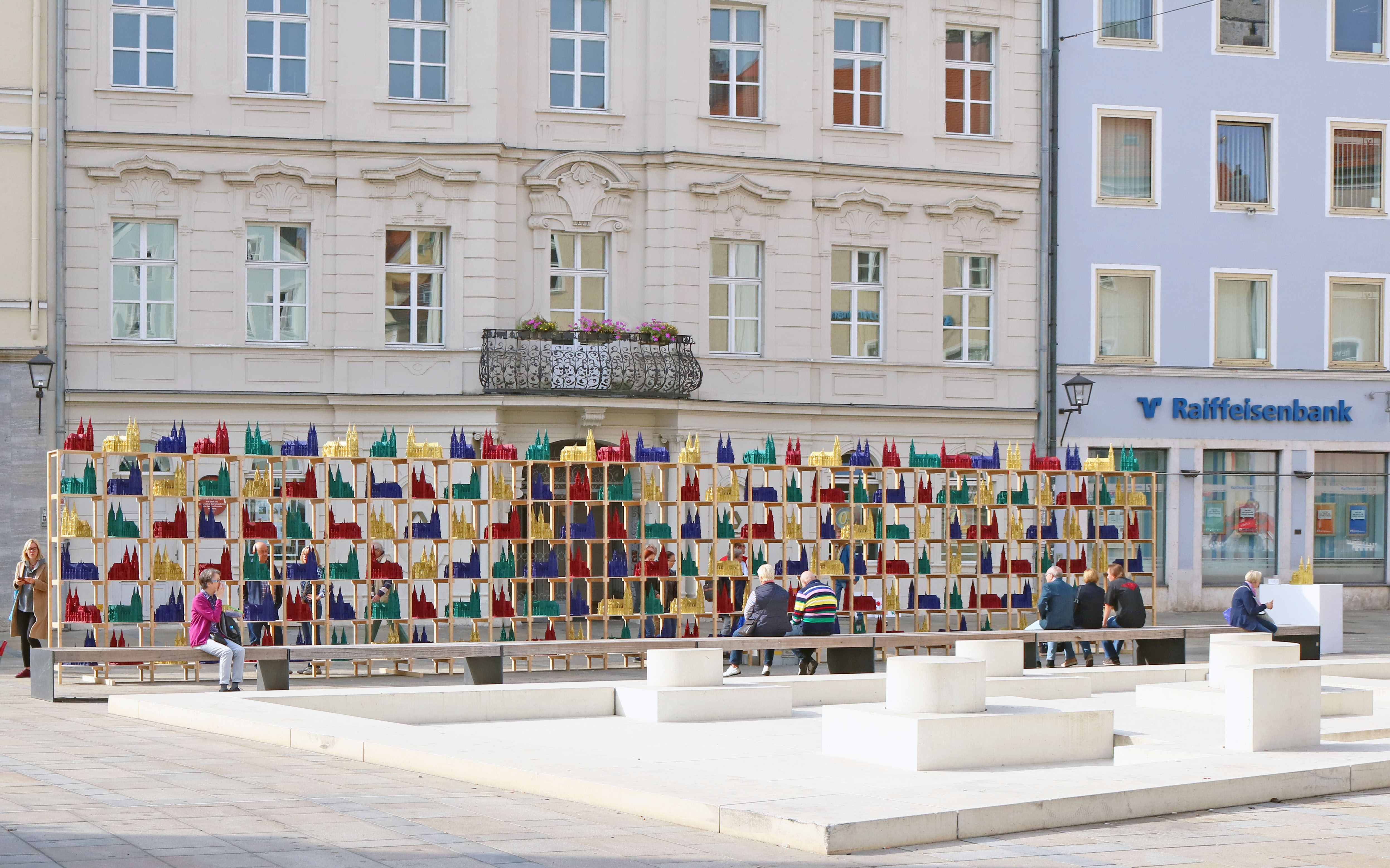 Photo: Eva Schickler
18.09.2019
Sculptural installation "Souvenir, Souvenir?!", Regensburg
Since 15 September, when the exhibition "Souvenir, Souvenir?!" was opened, visitors have been able to gain an entirely new perspective of St Peter's Cathedral in Regensburg: they may take the building in their hands, may turn it, and take a look at its roof. And they may ask themselves the question whether this object, which appears in four different colours here, really is a souvenir … The exhibition will be on show in Neupfarrplatz square in Regensburg until 29 September.
Observers in Regensburg's Neupfarrplatz square are requested to get involved: Ottmar Hörl's art in this public space invites visitors to take an active part in his installation, challenging them to engage in discussions, to touch and grasp art. As its title, "Souvenir, Souvenir?!", suggests, the current exhibition publicly broaches the issue of a private culture of remembrance; with the word "souvenir" being just another term for "remembrance".
With his new installation, Ottmar Hörl is opening up the space between St Peter, the Gothic edifice, and its commercialisation as a souvenir. One hundred and fifty coloured Cathedral sculptures, meticulously arranged on a shelf measuring fifteen metres in length and three metres in height as well as one hundred sculptures in the Gallery Madesta, are making the building tangible in a unique manner: larger than regular souvenirs, the plastic sculptures are reminiscent of architectural models. Visitors are in a position to get a vivid impression of some of the details of the Gothic building, to explore the feel of them, and have a close look at them: the spires, flying buttresses, pinnacles, and abutments – all the characteristic features of Gothic architecture. The elements that may otherwise only be detected by a micro air vehicle, are made visible for the observer thanks to the sculptures. This special perspective turns the sculptures into ambassadors of the City of Regensburg.
However, these "ambassadors" are shifty: they try to get lookers-on to think beyond such concepts as "original" and "model". These exhibits are serial works of art that not only echo the original construction and its 150-year-old spires, but are also part of a unique art event.
In this sense, the sculptures are moving far beyond their role as a "souvenir" or "model", claiming a different kind of originality that is inherent in themselves and separate from the unique edifice that is St Peter's Cathedral.
The original character of these sculptures lies in the fact that they are part of an open Gesamtkunstwerk where the artist sees himself as a dialogue partner who merely provides the stimulus which – incidentally – opens up new perspectives in space.
visit the website of gallery Madesta
visit the website of the art collections of the diocese Regensburg
< back to overview News
Categories
Events
GROUP EXHIBITION: "Ich, ich, ich – Selbstportraits heute" ("I, I, I - self-portaits of today")
FORUM KUNST ROTTWEIL
Friedrichsplatz 4
78628 Rottweil
20. November 2022 to 08. January 2023
http://www.forumkunstrottweil.de/?page_id=20


GROUP EXHIBITION: "PLATZHALTER – Kunst trifft Natur
Ein Projekt zur Landesgartenschau 2028" ("Place holder -art meets nature A project for the 2028 State Horticultural Show")
FORUM KUNST ROTTWEIL
Friedrichsplatz 4
78628 Rottweil
17. July to 18. September 2022
http://www.forumkunstrottweil.de/?page_id=20


GROUP EXHIBITION: "Leben im Krieg" ("Wartime life")
Historisches Museum Hanau Schloss Philippsruhe
Philippsruher Allee 45, Hanau
Extended to 04. September 2022
Tue-Sun 11 am to 6 pm
https://www.hanau.de/sehenswert/museen/index.html


KÜNSTLERTALK with Ottmar Hörl
Thu 09.06.2022, 7 pm and 23.06.2022, 7 pm
Exclusive talk with the artist Ottmar Hörl in the Kunsthalle and the Kunstverein Schweinfurt
Booking: 09721 51-4721 or via mail: kasse.kunsthalle@schweinfurt.de
https://www.kunsthalle-schweinfurt.de


EXHIBITION & SALE OF GOLDEN HENS IN THE VR BANK SÜDPFALZ eG
Waffenstraße 15
76829 Landau
Mo-Fr 8 am until 4/6 pm
Beginning 16th of February
The proceeds from the sold sculptures benefit the Frauenhaus Südpfalz
https://www.vrbank-suedpfalz.de


GROUP EXHIBITION: "Skulpturengarten 2022" ("Sculptural garden 2022")
Gemeindepark
Hauptstraße 20
76889 Schweigen-Rechtenbach
01. May to 31. October 2022
https://schulhaus-schweigen.com


GROUP EXHIBITION: "The culture of plastic: art, design, environment."
Omero National Tactile Museum
Mole Vanvitelliana
Banchina Giovanni da Chio 28
60121 Ancona, Italy
22. May to 31. August 2022
https://www.museoomero.it/en


GROUP EXHIBITION: "STREIT. Eine Annäherung." ("Argument. A close-up")
Museum für Kommunikation Berlin
Leipziger Str. 16
10117 Berlin
07. October 2022 until 27. August 2023
https://www.mfk-berlin.de


GROUP EXHIBITION: "Andy Warhol - Pop Art Identities"
Industriepark
Königsbrücker Str. 96
01099 Dresden
04. February until 12. June 2022
https://warhol-exhibition.com/#ausstellung


EXHIBITION: "Hommage à Axel Thieme"
Galerie Netuschil
Schleiermacherstraße 8
64283 Darmstadt
10. July until 27. August 2022
https://www.galerie-netuschil.net/