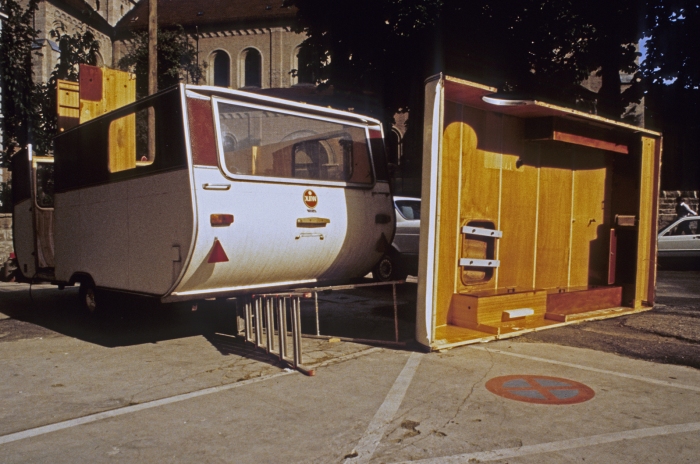 Caravan, 1987
Anyone who goes travelling has stories to tell

Even if this year's holidays are at risk of falling through, there is no reason to take the caravan apart.
However, that is exactly what Ottmar Hörl did. Doing so in 1987, as a co-founder and member of the "Formalhaut" group, and giving the project the simple title of "Caravan". Concept: Ottmar Hörl.
What this was all about were no failed holiday plans. The work rather took the idea of deconstructivist architecture to extremes: the structural unit of a caravan was completely disintegrated and re-designed to appear in a different architectural shape, thus expanding our spatial experience of a mobile home and its walk-in interior.
Walking in is no longer possible. Instead, the new layout of the unused pieces takes up less space – meaning that the parts that were originally used on the outside may now be stored inside.
This is only a marginal feature of the work, though. Its central purpose is to reveal the intrinsic structure of the caravan, a dissociation of form, function and familiarisation. In this sense, this piece is an embodiment of deconstructivism where construction is characterised by fragmentation, and used to create new, original shapes and connections.
> get to know more about the project Caravan (1987)
Exhibitions currently on display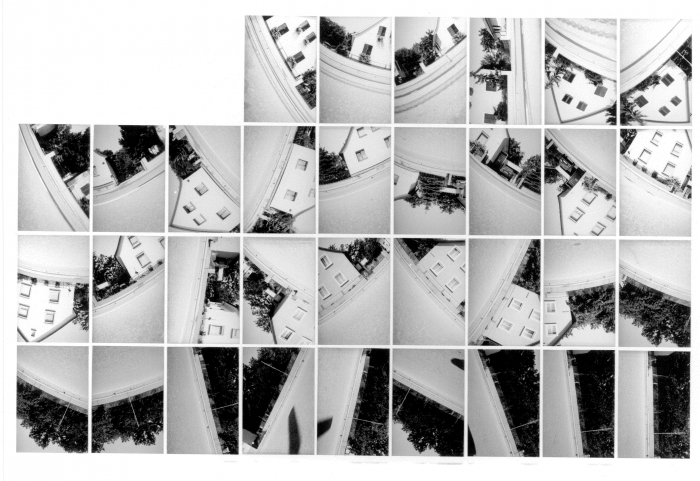 Schwäbischer Traum [Swabian Dream], 1989
Time Present

Anyone interested in photography should not miss "Time Present", an exhibition currently on show at the PalaisPopulaire in Berlin. Deutsche Bank has made its photography collection accessible and presents major works by well-known photography artists since the 1970s. Hörl's "Schwäbischer Traum" [Swabian Dream] is among the exhibits.
> access the website of Palais Populaire
Treue Freunde [Fast friends]


Dog lovers (and those who will surely love dogs after seeing this exhibition) may visit "Treue Freunde" [Fast Friends] at the Bayerisches Nationalmuseum, or Bavarian National Museum, in Munich, featuring sculptures Russ, Pug and Folichon by Ottmar Hörl. Find out more by going to: 



> access the website of the Bavarian National Museum




Was ist der Mensch? [What is Mankind?]


"Was ist der Mensch" [What is Mankind?], an exhibition on display at St John's church in central Herford, explores a fundamental question. The question is associated with different approaches, and is looked at from different philosophical and theological perspectives dealt with in a series of sermons to accompany the art exhibition presented in the church. The show features artworks from different periods offering interpretations of their own. Ottmar Hörl's contribution includes sculptures such as Worldview Model IV, a Labourer, and Friedrich Rückert.



> access the website of the church Herford (German only)



Foto: Wertheim Village, Patrick Amos


Wertheim Village


As a sequel to the resounding success of the 2019 Beethoven installation in Bonn, Wertheim Village presents a Beethoven installation in new colours to mark the anniversary year. Drop by and immerse yourself in the Beethoven summer's tale at Wertheim Village.



> access the website of the Wertheim Village




Foto: Victoria Asschenfeldt


Leben im Krieg [Life in times of war]


An exhibition at Hanau's Historisches Museum im Schloss Philippsruhe, or Historical Museum at Philippsruhe Palace, shows perspectives on Hanau during World War II. Having been extended to the end of June 2021, it features fifty Poisoned sculptures by Ottmar Hörl.



> access the website of the Historical Museum Hanau (German only)



Etwas Anderes aus der Sammlung [Something Different from the Collection]


This "exhibition" staged by the Ingolstadt Museum für Konkrete Kunst, or Museum of Concrete Art, involves an offer for listeners. Artworks that are rarely shown are presented, and supplemented by telephone conversations with anyone interested in art. #callforart features "Untitled", a work by Ottmar Hörl, on 19 July.



> access the website of the Museum for Concrete Art (German only)




Kunst im Setzkasten [art in a type case]


The FORUM KUNST in Rottweil shows art in the smallest of spaces in its exhibition "Art in a Setzkasten". 90 artists create 90 "rooms" with the dimensions 10 x 20 x 11cm. Against the stereotyped thinking!

 



> access the website of the Forum Kunst Rottweil (German only)



Ludwig van Beethoven


Beethoven meets pop: now available from our Shop – colourful versions of the Beethoven sculptures in night blue and pink to mark the anniversary.



> Ludwig van Beethoven sculpture




Fidelio - Beethoven key ring


According to the large Beethoven sculptures, the Beethoven key rings are now also available in night blue and pink.



> Fidelio - Beethoven keyring pendant



Sponti to go keyring pendant


The little Sponti to go is also available in orange now:



> Sponti to go - keyring pendant




Karl Marx sculpture


We also offer a special edition of the Karl Marx sculpture in bronze. Available for a limited period of time only.



> Karl Marx sculpture



Why traveling into the distance?
This is not as we know it, there is something missing. Anyone interested in art, must be somewhat puzzled when looking at this piece by Ottmar Hörl.
What comes to mind next is, "Did he fall down, the wanderer?"
And suddenly one comes to feel the sophistication behind Hörl's "editing" of C.D. Friedrich's famous painting. A gradual change of context results in a play with the viewer's familiar perception and experience … until the observer can enjoy an unobstructed view.
In your holidays, even though limited in terms of time and destination (due to the coronavirus), we hope that you will find the unusual among the usual, and enjoy the pleasant atmosphere of a summer to be remembered.
> More about the "Bildstörungen" of Ottmar Hörl
Prof. Ottmar Hörl

Kembacher Straße 9 | 97877 Wertheim | Germany | T +49 9397 328 | F +49 9397 639
www.ottmar-hoerl.de | Unsubscribe from newsletter | Legal notice